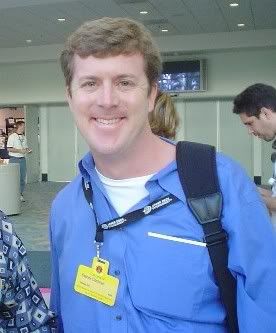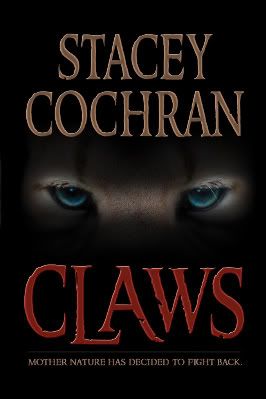 One of the main things a writer should always do is keep writing. With Stacey Cochran, he's done just that, not wasting any time and is no slacker when it comes to writing.
He has written a book called
Amber Page and the legend of the Coral Stone
(2005) where sixteen year old named Rio Katyena discovers a stone that is said to posses a power just for her. He's Written a book of Sci-Fi short stories,
The Kiribati Test(2004).
The Band(2004),a coming of age story.
The Colorado Sequence, a Da Vinciesque thriller
(2007).
Amber Page, Colorado sequence and The Kiribati test are all currently on Podiobooks as well as in print.
He also maintains his own Tv show called The Writer's Craft, in which he talks about some of the top dogs of the writing world. In Raleigh, North Carolina, he's done numerous book events to introduce new authors, talk about the joys of publishing and self-publishing and holds discussion panels about the change that is happening within the publishing world thanks to the internet. You can check out the 200+ videos on
Stacey Cochran's Channel
on Youtube.
They are really insightful, a good chunk of his videos average an hour long.
He's also a family man. What a busy guy, right? Oh, but it doesn't stop there. He's recently released a new book called Claws. Right now he's coming to the tail end (no pun intended) to a 45 day blog tour, which I think is genius and saves on gas money. I conacted Stacey and asked if he would be interested in doing an interview. He was more than happy to.
Q:What is your earliest memory of writing?
A:I should first start by saying thanks, Roberto, for having me at your blog today, and thanks so much for doing this interview. I'm honored that you asked, and I'll try to keep my answers short and helpful.
My earliest memory associated with writing was from Kindergarten at Westover United Methodist Church in Raleigh, North Carolina. I remember learning to write out letters and the alphabet on lined paper with a dotted midline that aided in making upper- and lower-case letters.
By age six, I was trying to write my first "make believe" stories, and I was first recognized as being different at age seven, when I wrote a story about the Pillsbury doughboy having pieces of his body pinched off of him by people who wanted to make cookies. That story actually prompted my 2nd-grade teacher to speak with the school principal who then called my mom (who had separated from my dad for a short time) to come to school and discuss the piece.
I just felt really sorry for the Pillsbury doughboy, I guess. It was an early suspense story.
Q:How did it feel to have your first book in print?
A:The very first time I saw a short story of mine published in my university's literary magazine, it was a definite milestone. It felt like I had finally achieved publication after many years of writing. Then, several years later to see my first novel in print…. well that was an amazing day, too. I still remember opening the package in the mail and seeing the novel, holding it in my hands, knowing how many years had gone into my writing to arrive at that point. And then immediately doubting that the cover art was not right, that nobody would buy it, that I could have maybe done better. Moments of elation followed by moments of doubt; that's the life of a writer.
Q:When did you decide to be a writer?
A:I didn't make a conscious choice to pursue it as my life's work until I was about 20 years old. I had been sending out little short stories and poems prior to that for a few years, writing a couple of terrible screenplays, etc., that never went anywhere. But it wasn't until I met published authors in college that I realized that I could be a writer. That it was something that people do.
Q:Do you get writer's block? How do you combat it?
A:I don't really know what writer's block is, so I guess I'd have to say I don't get it. I have times when I have had tremendous doubt - doubt that might last several months or even a year or more - but I never stop working on a novel once I start it. My fastest novels I've written in several months. My slowest sometimes take several years. There are times in writing the slowest ones that might constitute what we mean by "writer's block," but I usually wait for the doubt to pass (a few weeks sometimes) and eventually I'll see the way a scene is supposed to go.
Q:Favorite writer junk food.
A:On days that I write, I often won't eat until late in the afternoon and will instead slowly make my way through a pot of coffee. I might occasionally eat a light snack if I'm just flat-out starving and can't think straight. But usually I'm fine on coffee until about 3 or 4 o'clock in the afternoon.
Q:Tell us about Claws. Is it part of a trilogy?
A:Claws is a thriller novel. It concerns a wildlife biologist named Dr. Angie Rippard who gets drawn into a police investigation in Tucson, Arizona, when two of her brightest students at the University of Arizona are found killed at a resort near National Forest Land. She suspects they were mauled by a large mountain lion, but her assessment draws her into conflict with the resort's owner and local politicians.
Claws 2 has not been published yet, but is completed in manuscript format. Dr. Rippard is drawn into an investigation regarding grizzly bears in southwest Colorado. Grizzly bears are presumed extinct in that area (the last was shot by a bow hunter named Ed Wiseman in 1979).
I have a rough outline for Claws 3, but the novel hasn't been written. With this novel, I wanted to explore spotted leopards in northern Mexico that occasionally cross the border into Arizona. The idea I have is to bring the border fence issue into the story and say something about immigration issues. Spotted leopards do occasionally cross into Arizona, and these cats are huge. They can weigh upwards of 200+ pounds and would attack a human much like a tiger. Most folks don't know that spotted leopards even exist in the United States in extreme southern parts of Arizona.
I don't know if I'll write this third novel… If there's interest from readers to do so, I might get around to doing it. And I would want to treat the parallel issues of immigration and border patrol in a mature way. I'm not sure I know exactly what my stance is on illegal immigration and to try and draw connections between that issue and jaguars could quickly turn ugly unless I knew exactly what I wanted to say.
Q:What was your inspiration for writing it?
A:I wrote Claws because I lived in Arizona for a while earlier this decade, and the part of Arizona where I lived was remote. It was mountain lion habitat, and so I wanted to learn more about the animals. Around the same time, a major wildfire burned 250,000 acres of a ponderosa pine forest near Tucson, and it ended up driving mountain lions into suburban areas to forage for food. Several elementary schools had to be closed because cougars were stalking kids, and I thought "What if a really big mountain lion set up shop in one of these areas in northern Tucson that borders protected National Forest Lands?" The novel came from that idea.
Q:What are you working on now?
A:I am currently working on a Southern gothic novel titled "The Eternalist." It's a cross between Stephen King and Agatha Christie, and my goal was to try and re-invent what we think of as "the Southern gothic novel." Totally modernize it, and bring Southern literature into the 21st century with a bang. I've been chipping away at it for about two years. Hope to have the first draft done inside of three years.
Q:Favorite writers?
A:Man, I read everything. From bestsellers like Dean Koontz and Stephen King, to unknown self-published authors who no one has heard of. I like classic sci-fi authors like Ray Bradbury and Richard Matheson. I like contemporaries and friends like J.D. Rhoades and J.A. Konrath. I read a great literary novel last year by a North Carolina author named Ron Rash (novel was titled "Serena"). And I read Cormac McCarthy's "The Road" several times. Everything from the best literary fiction to shlocky pulp fiction with titles like "Planet of the Damned." I'm a big fan of Philip K. Dick.
I tend to believe that no writing is "good" writing; it's all subjective and if I have any taste at all I should realize that a person hammering out their first so-called "bad" novel is just as important (and interesting to me) as the guy who gets an eight-figure advance and has millions of readers.
Q:What advice do you have for aspiring writers?
A:Do not wait for someone to discover you. Make your career happen on your own. And be willing to help out other writers above all else.
Thanks so much, Roberto, for having me today. These were great questions, and I'm honored that you thought to ask me to answer them. This was fun!
"If my doctor told me I had only six minutes to live, I wouldn't brood. I'd type a little faster." ~ Isaac Asimov