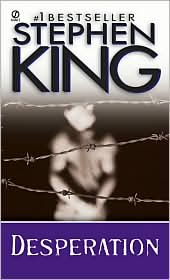 Desperation came right after my reading of Insomnia. A worthy read. It was 560 pages, roughly around the same amount as Insomnia but with a much slower, different story.
King was inspired to write this on a cross-country drive in 1991. He was nearing the town of Ruth, Nevada. He found the town ghostly and somewhat void of human life. He had a thought that all the townsfolk might be dead. Then he thought of how they would've died. The Sheriff killed them was the thought that popped in.
So here we have this story, of people finding their way to the town of Desperation, Nevada. A couple, a family, the town vet, a traveling author with his agent who picks up a hitchhiker are all tossed into the web of this ghost town. And they all meet the town's Sheriff Collie Entragian, who seems to be a tall, eccentric, rude man of authority. But then that eccentricity turns to real fear as it becomes clear that the sheriff has been tidying up the roads by taking people back to the town in order to kill them. Later, we find that not only is the sheriff crazy, but he seems to speak a different ancient language mixed in with his regular speech and looks to being led by supernatural forces.
But the real gem character, out of the many who are well balanced and trying to survive the horror in this story, is David Carver, a small boy who is being led to help the survivors escape the town.
I devoured this book. I even watched the movie which starred Ron Perlman and Steven Weber, two great character actors. But, for those who have not read it yet, go to the book first, folks. You know by now that it's always better than the movie.